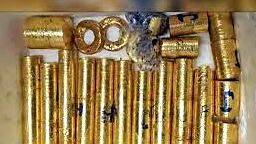 NEW DELHI: The Supreme Court will hear the detailed argument of the Enforcement Directorate on its plea to transfer the gold smuggling case to Bengaluru. The final decision will be taken by the court only after hearing the arguments of all the accused.
The Supreme Court said that there is a practical problem to accept the demand to transfer the case to Bengaluru just because the case is related to the ruling party of Kerala. If this is the sole reason of transfer then there would be a flood of similar pleas at the SC.
Only if it is a rare case can it be transferred to other states. The SC observed that this issue is related to the faith in the judiciary. The Additional Solicitor General, SV Raju, appearing for the ED argued that the court can be convinced of the case's rarity.
The SC said that after reviewing the progress of the trial court's proceedings, the date for detailed hearing will be informed.