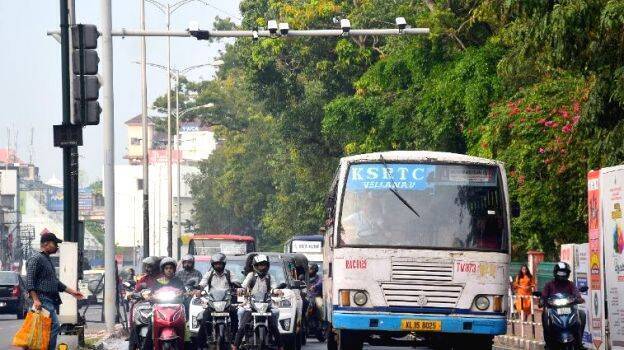 THIRUVANANTHAPURAM: Although 1,000 new hi-tech cameras, including 726 Artificial Intelligence Cameras (AI ANPR), have been installed across the state to detect traffic violations and issue fines, the government is yet to give operational permission to these cameras. The cameras were expected to begin operating in September after being installed by Keltron for a cost of Rs 236 crore. Sources said that the project is getting delayed as there is no final understanding regarding the sharing of income received upon the commencement of the functioning of cameras.
The Motor Vehicle Department estimated that the cameras would generate an income of Rs 261 crore through fines in the first year.
Apart from these AIANPR cameras, the authorities had also planned to introduce mobile camera units like SVDS to detect overspeeding and RLVDS to detect red signal violations. All these are in addition to the Motor Vehicle Department's current camera system
A control room and a central control room were set up in each of the 14 districts. The authorities had decided to appoint Chelan processing staff in all these control rooms in addition to officers of the rank of RTO, MVI and AMVI.
Traffic violations
Not using helmets, seatbelts; More than two people travelling in two-wheelers; Using mobile phones while driving
The number board will be scanned and compared with the information on the vehicle website. If the records are not accurate, the camera will detect that as well
Vehicles without permits, insurance, fitness and registration will be identified and fined.