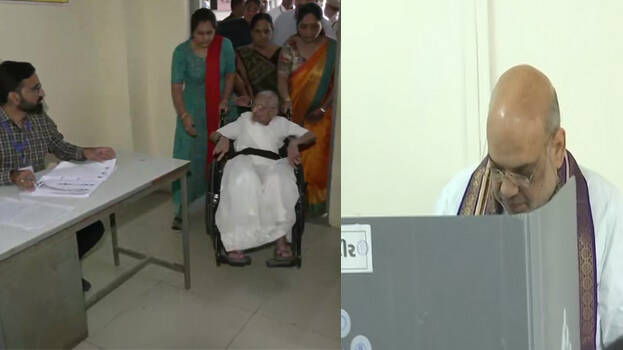 AHMEDABAD: The second phase polling of Gujarat assembly elections is progressing. Union minister Amit Shah has cast his vote in a polling booth in Ahmedabad. Prime Minister Narendra Modi's mother Heeraben Modi also cast her vote in the elections.
Prime Minister Narendra Modi and Chief Minister Bhupendra Patel also casted their vote. PM Modi arrived at Nishan High school in Ranip, Ahmedabad to vote. Chief Minister also requested everyone to come out and vote.
The election is being held today in 93 constituencies in fourteen districts. There are more than 2.5 crore voters in these constituencies. 833 candidates including Bhupendra Patel, Patel Samara leader Hardik Patel and Congress leader Jignesh Mevani are contesting in the polls.
Like the first phase, the second phase polling is slow. 19.17 percent polling was recorded till eleven o'clock. The first phase of voting was held on December 1. In the first phase, 63.31 percent people casted their votes. Meanwhile, exit polls in Gujarat and Himachal Pradesh will come out in the evening.