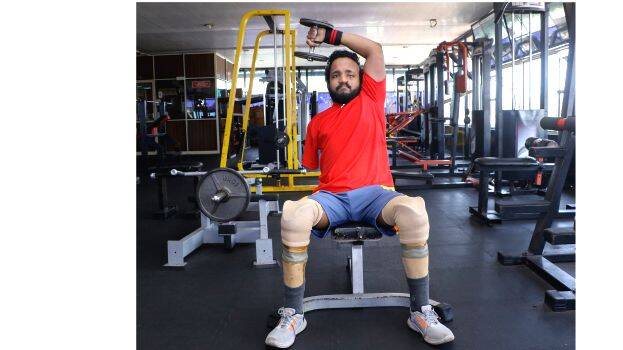 ALAPPUZHA: A decade ago, Kerala Kaumudi had published a picture in which a father was seen carrying a boy who has no legs and an arm, and was struggling to cross a small single wood bridge. The mother followed them carrying the boy's prosthetic leg. But years later, the situation has changed. Appu, the boy in the picture is now 23-years-old and is now preparing for a body building competition in a gym in Ambalappuzha.
After graduating from Govt college, Ambalappuzha he decided to join the gymnasium. Even though many people discouraged him, he didn't give up. Realizing Appu's determination, Vishnu of Murali Gym took up the task. Appu will be competing in the Mr Alleppey competition to be held on 11th of this month.
Appu, a native of Karoor, Ambalappuzha was born without right hand and lip and voice impairment. When he was two-years-old, both legs were amputated due to infection. Later the lip was implanted. His voice also changed after another surgery. He was ridiculed for his disabilities and remained lonely. From there, he reached this stage in life.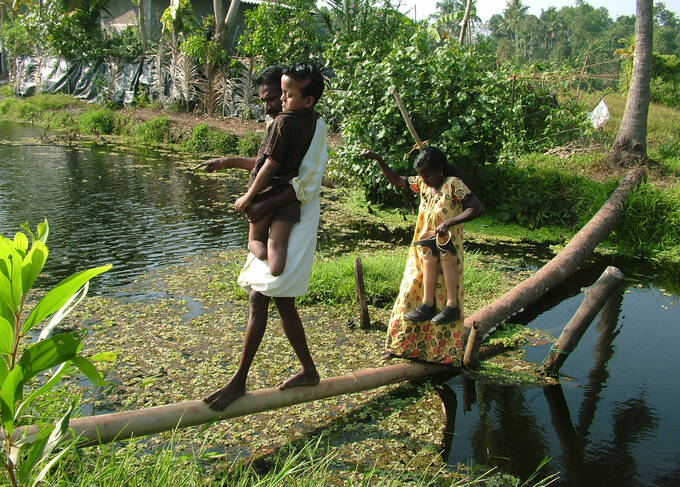 His only income is Rs 1600 received as differently abled pension. Rs 500 will be paid in the gym. Rs 400 is given as auto fare. Due to lack of money, the training is done only in the evening. His mother, who is a temporary sweeper in a school, is the only earning member and his father is unable to go to work. Loan taken for sister's marriage has not been paid. Appu, who is also an animation student, is trying to buy an e-scooter for disabled. He also needs money to buy another prosthetic leg as the current one is damaged.