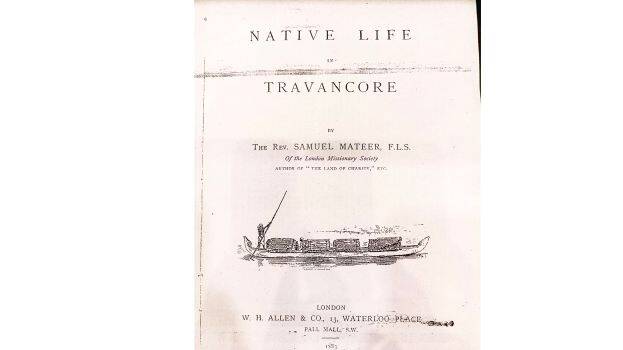 KOCHI: Travancore Devaswom Board's stance that Malayali Brahmins have been the Melshanthis of the Sabarimala temple since ancient times is a lie, said Mala Araya Maha Sabha State general secretary PK Sajeev. He was responding to the affidavit filed in the High Court in the Sabarimala Melshanthi appointment case.
There is a reference about this in the book "Native Life in Travancore" published in 1883 by Rev. Samuel Mateer, who was an evangelist of the London Missionary Society. Mateer was a missionary in Travancore for 33 years. According to the information provided by another priest WJ Richards from Kottayam, a man named 'Thalanani' was the temple priest and the oracle (Velichappad) of Sabarimala Ayyappa temple. Sajeev also said that the descendants of Thalanani, who belong to the Malaya tribe, are still in Melukavu.
"The Sabarimala temple belonged to the Mala Araya community until it came under the control of the Pandalam royal family. They also performed the pujas. The Thazhamon family became head priests after the temple was taken over by Travancore following Pandalam adamanam. Then they forcibly took over the management of the temple, including priesthood from the Mala Arayas. Later, this Devaswom board also beaten up the Malay Arayas who were lighting Makarajyothi at Ponnambalamdut. This being the fact, the Devaswom Board is asking for proof that the non-Brahmins performed the puja.", said Sajeev.
"The Devaswom Board should clarify whether they will return the temple to the Mala Arayas if the proof is provided. The stance of the board is against renaissance and anti-constitutional. Out of the 18 mountains in the Sabarimala Poonkavanam, four are still inhabited by Mala Arayas. Their ancestors used to perform puja in the Karimala temple as well. Devaswom Board is distorting history. It is casteism that only Malayali Brahmins are allowed to be Melshanthis in Sabarimala. The left government cannot agree with this.," said Sajeev who is also a member of the government's Navodhana Samathi.