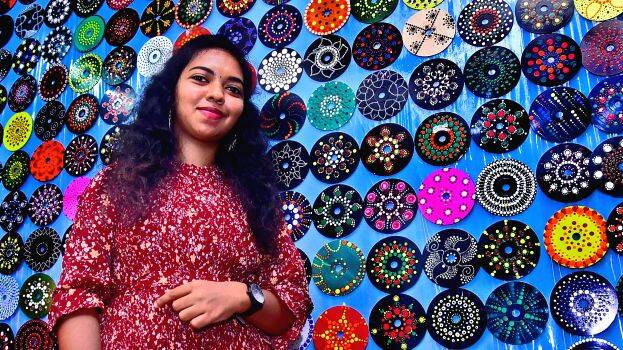 ALAPPUZHA: Alappuzha native Adithya started dot pointing on old film CDs just for fun during lockdown period. Now she is also earning income through 'dot mandala art'. Dot mandala is a way of painting using only dots.
Her Google search out of her interest in painting led to 'Dot Mandala'. Mandala is an art form used by tantric Buddhists for meditation. Each dot is believed to be the mind of the Buddha. For Adithya, this is also a form of meditation.
Many people approach her for dot paintings in different colours on the CD. It is mainly for interior decoration of new houses. Rs 100 for the painting on a CD. Many people book more than 10 CDs which gives her better income. There are also demands for Mandala designs in clothes.
Adithya is a final year BA Economics student of SD College. After graduation, she will join a fashion designing course.
In the beginning, she used the rubber on the back of the pencil, toothpicks, cotton buds etc. for painting by dipping it in acrylic paint. Then she bought mandala tools online. Adithya entered the Indian Book of Records by painting dot mandala on 301 CDs.
She is the daughter of Alappuzha Asramam ward natives Rajesh and Nikhitha. Her brother standard 8 student Niranjan also paints pictures.
It takes less than half an hour to draw a picture on a CD. Concentration is essential. Painting is from 11 pm to 5 am. No dot mandala on college days. Instead, she draws pictures on bottles, clothes, phone covers, light bulbs, etc.