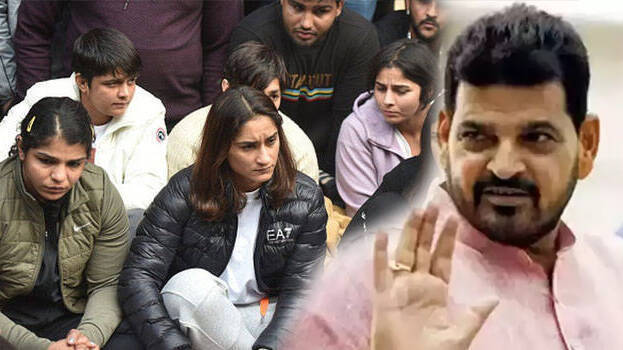 NEW DELHI: The Wrestling Federation of India (WFI) has rejected all the allegations, including that of sexual harassment against its president Brij Bhushan Sharan Singh, saying 'there is no scope for arbitrariness and mismanagement in the federation. The federation said that the protest has some personal as well as hidden agenda, in the letter of explanation to the sports ministry. Even though the protest was brought to an end with the understanding to form an oversight committee, the federation is holding its official stand that there was no sexual harassment.
At present no action has been taken against Brij Bhushan. Indian Olympic Association (IOA) formed a seven-member committee that includes Olympic medalist Mary Kom, Dola Banerjee, Alaknanda Ashok, Yogeshwar Dutt, Sahdev Yadav, and two advocates, to probe the #meToo allegations of sexual harassment. Brij Bhushan has been removed from the position of president till the investigation is over.
Wrestlers had declared to continue with the protest till demands like dissolving the federation are met. Sakshi Malik, Bajrang Punia, and Vinesh Phogat took part in the meeting arranged by central government to discuss the matter. No satisfactory decisions were made, updated the wrestlers. Wrestlers demanded the resignation and arrest of Brij Bhushan, and the dissolution of the federation. The wrestlers came forward with a protest led by Sakshi Malik, Bajrang Punia, and Vinesh Phogat on the allegation that Brij Bhushan and trainers sexually harassed them.