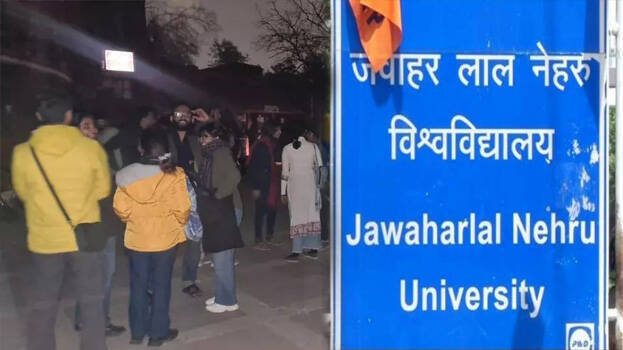 NEW DELHI: Electricity supply to the Jawaharlal Nehru University campus (JNU) was cut off ahead of the screening of the controversial BBC documentary related to the Gujarat riots. The students' union had earlier scheduled a screening of the BBC documentary 'India: The Modi Question', a documentary on the Gujarat genocide, at 9 pm tonight. However, the JNU administration cut off the power supply to the campus and hostel before the screening started.
The students came out with a protest soon after the electricity supply was cut off. The students, who declared that they will not back down from the screening of the documentary, are watching the documentary together on laptops and mobile phones. Meanwhile, stones were pelted at the students watching the documentary. SFI alleged that ABVP activists were behind the stone pelting. It is reported that the internet service on the campus was also partially disconnected.
Earlier, the JNU administration had refused to give permission to screen the controversial documentary on campus under the leadership of the student union. It had also issued a warning notice against the screening of the documentary and announced that severe action would be taken if the documentary is screened.