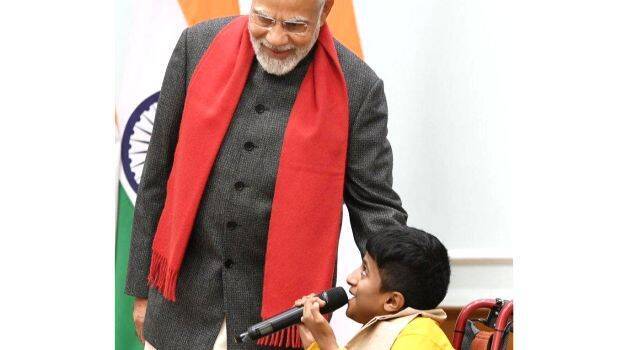 NEW DELHI: When Prime Minister Narendra Modi came to know that Adithya Suresh, a Malayali who won the PM Rashtriya Bal Puraskar, was a singer, he wanted to listen to the boy's song. When Adithya sang the song 'Tere Mere Beech Mein...', the Prime Minister applauded him and gave him gifts, including a tab. Initially, when the Prime Minister spoke in Hindi, Adithya replied that he did not know Hindi. Adithya said that the Prime Minister playfully gave him a pinch on the head and told him not to say that he does not know the national language anymore and that he should learn Hindi. Adithya is a child with brittle bone disease. Union Minister Smriti Irani, who attended the function, came to Bengali Street and had a meal together with the Rashtriya Bal Puraskar awardees, including Adithya.
The Prime Minister met the awardees at his residence, 7 Lok Kalyan Marg. He communicated with everyone. The awardees asked questions and the Prime Minister answered them. He advised the awardees to move forward by solving small problems and building confidence to solve bigger problems in future. He discussed the problems faced by children and explained the role of the family in managing them.
Adithya Suresh, M Gauravi Reddy, Shreya Bhattacharjee, Sambhab Mishra, Rohan Ramchandra Bahir, Aditya Pratap Singh Chauhan, Rishi Shiv Prasanna, Anoushka Jolly, Hanaya Nisar, Kolagatla Alana Meenakshi and Shauryajit Ranjitkumar Khaire are the award winners.
Adithya sings movie songs, poems and Mappila songs in a heart-touching way. In the beginning, he started singing songs without getting trained in music. Now, he has been studying classical music for four years. Adithya is the second son of Poruvazhy native Suresh and Ranjini. He is a Plus One student of the V.G.S.S.Ambikodayam H.S.S, Nediyavila.