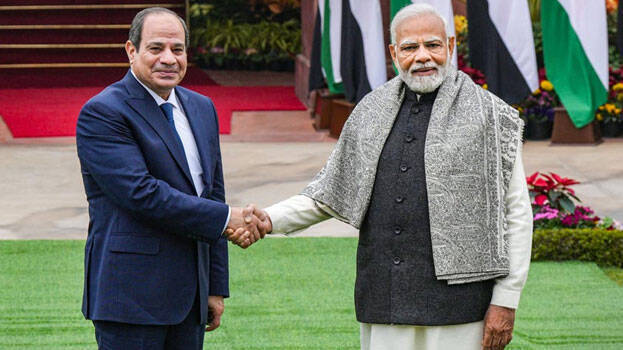 NEW DELHI: With Egypt in midst of an economic crisis, Egyptian President Abdel Fattah El-Sisi, who was the chief guest at the Republic Day parade, reportedly approached India for investment in infrastructure projects in the country.
The report also states that this was the main topic of discussion for the past two days held by the top leadership, including Prime Minister Narendra Modi. Currently, more than 50 Indian companies have investments worth $3.15 billion in Egypt. Egyptian investment in India is only about $37 million. India's trade with Egypt was $4.5 billion in 2018-19. This has increased to $7.26 billion in 2021-22.
The two countries also expressed confidence that it could be increased to $12 billion in the next five years. The report also said that Egypt is considering the possibility of allocating a special location for Indian industries in the Suez Canal Economic Zone (SCEZ).
Abdel Fattah El-Sisi is in India from January 24 to 27. He is the first Egyptian Prime Minister to be invited to the Republic Day Parade. The Egyptian military contingent also participated in the parade for the first time. A group of 144 soldiers representing the main regiments of the Egyptian Armed Forces arrived under the command of Colonel Mahmoud Mohamed Abdel Fattah El-Kharasawi.
After this, Abdel Fattah El-Sisi also attended the reception given by Draupadi Murmu at Rashtrapati Bhavan. Prime Minister Narendra Modi, Vice President Jagdeep Dhankhar, former President Ram Nath Kovind, former Vice President Hamid Ansari, Defense Minister Rajnath Singh, External Affairs Minister S Jaishankar, Congress President Mallikarjun Kharge, Union Ministers and other dignitaries attended the 'At Home' reception at Rashtrapati Bhavan.
Abdel Fattah El-Sisi welcomed the signing of the Memorandum of Understanding on Defense Cooperation during the visit of India's Defense Minister Rajnath Singh to Egypt in September 2022. Both countries also decided to strengthen cooperation in all fields. The exchange of technology and military exercises were also agreed upon. Egypt also considered India's candidacy for non-permanent membership of the United Nations Security Council for the period 2028-29, the report said.