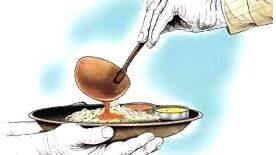 THIRUVANANTHAPURAM: The headmasters of various schools have approached the court demanding an increase in the amount allotted for mid-day meals for students in government and aided schools in the state. The Kerala Private Secondary School Headmasters Association approached the High Court as it did not get a favourable stand from the Department of Public Education even after handing over several complaints and staging a hunger strike.
The government allots Rs 6 to 8 per child per day for the mid-day meal scheme. It allows Rs 8 per child for a school with up to 150 children and Rs 7 per child for schools that have 150-500 students. A school with more than 500 students is allotted Rs 6 per child. The headmasters are demanding that this amount should be increased to Rs 15 per child.
However, the Education Department's direction to increase the amount to Rs 10 has been waiting for approval from the Finance Department for a long time. Most schools provide breakfast and lunch to students. Apart from this, the schools also have to provide milk and eggs two days a week. In many schools, the teachers are spending money from their own pockets to prepare the food. Rising prices and the low amount allotted by the government are making things difficult for teachers.
About 42 lakh children in government and aided schools of the state are getting the benefit of the midday meal scheme. Dues for the noon meal were approved only recently. Although the Education Minister had assured in the Assembly that the amount for the noon meal scheme will be increased after Onam, this assurance is yet to be fulfilled.