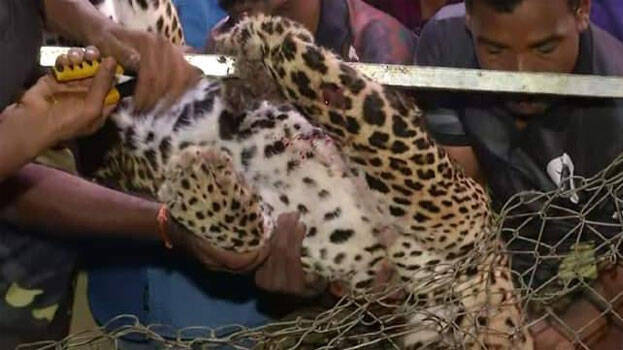 PALAKKAD: A leopard that got stuck in a chicken coop while trying to catch them has died. The leopard entered the chicken coop of Philip's house in Mannarkkad Mekkalapara at around one early Sunday morning. The leopard which came to eat the chicken got stuck in the cage.

The forest department had initially decided to capture the aggressive leopard by tranquilizing it. A team led by Dr Arun Zakaria had left from Wayanad to Mannarkkad. However, an examination conducted by the forest department officials confirmed the death of the leopard. An examination was conducted as the animal was lying motionless for a long time.

The leopard that died has been taken out of the cage. It will be taken to the division office of the forest department and the post-mortem will be conducted. Only through a post-mortem it can be known whether the leopard died of a heart attack or of injuries. The leopard sustained injuries on its face while trying to escape from the net. However, the initial conclusion is that there are no injuries to cause death.

Philip saw the leopard in the cage when he came out hearing some noise in the night and had a narrow escape. The leopard pounced on Philip, but he immediately entered the house and closed the door. The forest department had captured three leopards from this area in the last two years. Life here is difficult as wild animals enter the residential area.