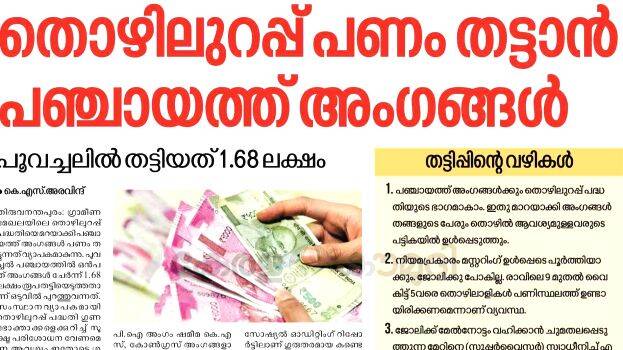 THIRUVANANTHAPURAM: Mahatma Gandhi national rural employment guarantee scheme (mgnregs), which is given crores annually by the central government, is supervised only by the contractual employees at the panchayat, block, and district levels.
All offices have government officials assigned to the scheme but all they do is sign. It is alleged that the documents are not checked or made sure that there is no irregularity. In many places, even the digital signatures of the officials are handled by the contractors.
A similar fallout is behind the incident reported by Kerala Kaumudi the other day, where nine members of the Thiruvananthapuram Poovachal panchayat swindled 1.68 lakhs without working. The project is being managed across the state by people who got contract appointments with political influence. Panchayats are headed by one engineer, two overseers, two accountants, and IT assistants. All of them are contract workers as well. Panchayats should be supervised by Secretaries, blocks by Program Officers, and district-level by Joint Program Coordinators. Due to other work pressures, officials give the least consideration to the employment guarantee scheme.
Reluctance to check

At the panchayat level, the law requires village extension officers to inspect all workplaces. The Block Program Officer, Joint Program Officer, and Extension Officers should randomly check the jobs in the blocks. Random checks are to be conducted by the Joint Program Coordinators in the districts. Most officials don't check the work site. A document will be made without an inspection.