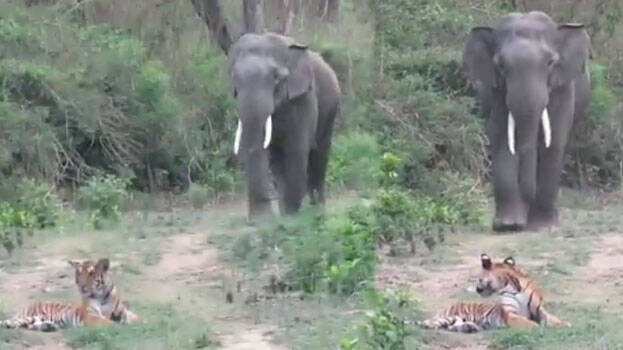 THIRUVANANTHAPURAM: The forest department assesses that the lack of food and insufficient forest area are the reasons for wild animals including tigers and elephants coming to residential areas and becoming a threat to people's lives.
Grassy plants such as reeds and bamboo have been greatly reduced as invasive plants like Senna siamea become widespread in the forest. This has reduced food for herbivores like elephants. This is the reason why they come out of the forest. Because there are edible crops in the forest border area they leave the forest to consume these. As the animals that tigers feed on roam in search of food, the tigers also leave the forest to go after them.
Earlier crops such as ginger, turmeric, and tamarind were raised on the forest borders. The creatures will return without eating them. Now bananas, yam, and kappa are cultivated. Wild elephants and wild boars that come to eat these do not return.
A tiger needs 25 square kilometers of habitat. This will decrease as the number increases. Tigers attack and maim each other as they encroach on each other's habitat. Some of them lose their canine teeth like this. With that, the ability to catch prey is lost. Once they see cows and goats on the forest border, they do not return to the forest. All the tigers caught by the forest department and brought back to the country are crippled.
Tigers multiplied
As of the 2018 census, there are more than 130 tigers in Wayanad Wildlife Sanctuary alone. Now it is estimated to be 150. Adjacent to this, there are 790 tigers in the Anaimalai Tiger Reserve, a part of Tamil Nadu, and 568 tigers in Karnataka's Bandipur Tiger Reserve. Tigers can travel up to 200 miles across state forest boundaries to hunt prey.
Wild elephants 5,706
It is estimated that there are 5,706 wild elephants in the state. Wild herds require 128 square kilometers of habitat. The challenge has been that most of the elephant stands have been demolished to make way for resorts and settlements.
'Wildlife has increased beyond the forest's carrying capacity. A plan has been launched to eradicate invasive plants such as the yellow mulberry in the forest.'
-AK Saseendran
Forest Minister