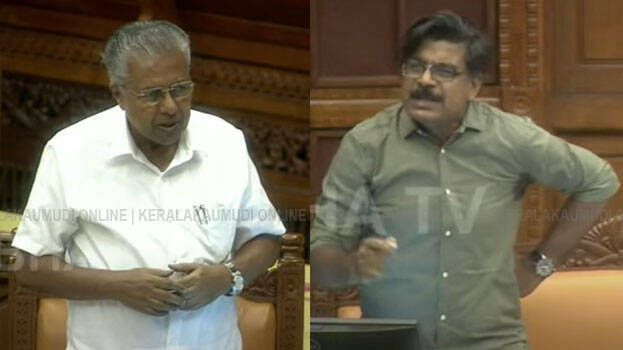 THIRUVANANTHAPURAM: Chief Minister Pinarayi Vijayan harshly criticized Mathew Kuzhalnadan in the assembly. The chief minister got irked when Kuzhalnadan while seeking permission for an adjournment motion in the Karunagapally drug trafficking case, levelled allegations against the CPM leaders.

'The minister should answer to the allegations of the opposition, What I have to tell the member is that the assembly cannot be turned a venue to talk rubbish. Is this the way to present things in the assembly. Is this the way the adjournment motion should be presented. There is a limit for everything and it should not be crossed,' said the chief minister.

Kuzhalnadan, while seeking permission to present an adjournment motion, alleged that a section of leaders in the CPM is using money from drug trafficking to gain foothold in the party.

However, the opposition leader said that he gave directions to Kuzhalnadan to present the notice for adjournment motion with full responsibility and the allegations were levelled based on evidence. Excise Minister M B Rajesh responded that the LDF government's method is not to include or remove the accused by looking at their political connections. Rejecting the allegations of the opposition. The consumption of drugs is seen seriously. The drugs were smuggled in a vehicle rented out by the CPM municipal councilor of Alappuzha. If the lorry owner is found to be involved, he will be made accused. The police investigation is going on. No evidence has been found to implicate the lorry owner. Rajesh informed the assembly that the government has not taken any steps to save the accused.