Babiya crocodile ate nivedhyam yesterday also
| Published on Sat 12 Jan 2019 11:46 PM IST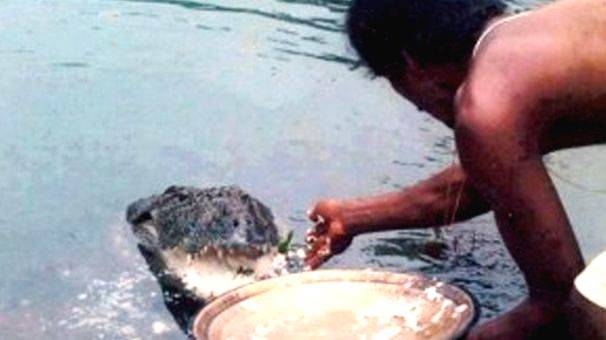 KASARGOD: 72-year-old temple crocodile Babiya is safe in the pond at Anathapuram Tadaka temple. Babiya yesterday also gulped down the nivedhyam (offering of porridge made to temple deity), given by temple priest Chandraprakash Nambeeshan and went back.

The news that had spread through certain paper and social media that Babiya is no more was fake. Now, the irate temple authorities are getting ready to take action against propagators of the fake news. They have already given a complaint to cyber cell.

The crocodile's food is nivedhyam. As soon as the poojari calls her name, Babiya emerges from under water and moves towards him. After eating to its heart's content, she will go back to the pond bed.

Babiya is no way a threat to other fishes in the pond. She doesn't behave like an ordinary crocodile. The temple is also as amazing as Babiya. The temple is famed as the Moolasthanam (base point) of Thiruvananthapuram Padmanabha Swamy temple.

Thadaka temple is 16 km away from Kasargod near Kumbala.

The myth says that during the British reign, a soldier shot dead the crocodile that was in the pond but it reappeared the second day. Since then devotees have attributed godly powers to her. Hundreds of devotees go to this temple to see this crocodile and have darshan of temple deity.