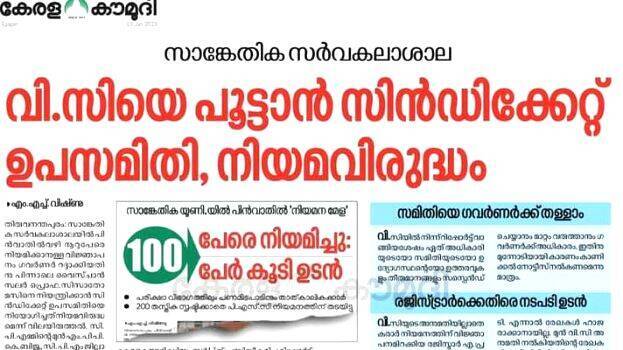 THIRUVANANTHAPURAM: The Governor has blocked the implementation of the Syndicate's appointment of a sub-committee to monitor the day-to-day activities of Prof. Ciza Thomas. The sub-committee was appointed after the Governor cancelled the notification to make 100 backdoor appointments at the varsity.
The committee members were former CPM MP PK Biju, CPM district committee member I Saju, registrar A Praveen and associate professor G Sanjeev of Palakkad NSS College. The Governor has directed the VC not to approve this illegal decision. It is the responsibility of the VC to ensure that the decision of any committee of the varsity is not inconsistent with the Act, Statutes or Regulations. Kerala Kaumudi had reported on January 13 that the sub-committee was illegal.
The Governor took action after assessing that the sub-committee to monitor VC is against the University rules and regulations. The VC had informed the Governor that a committee comprising two politicians, a registrar and an associate professor of an aided college had been formed to control the chief academic and executive officer, the VC. The Governor informed the VC that the decision of the Syndicate will not be implemented without the signature of the VC. He also directed the VC not to sanction illegal decisions. Under Section 14(5) of the Act, the decision of the Chancellor is final in case of dispute with the VC and other authorities.
The decision of the Syndicate that all communications between the Chancellor and the Vice-Chancellor should be submitted to the Syndicate and that the VC shall communicate with the Chancellor only with the permission of the Syndicate will not be enforced. The Syndicate has no power to give such an instruction. Also, the VC will not accept the direction that all the reports sent to the Chancellor so far should be submitted to the Syndicate for consideration.