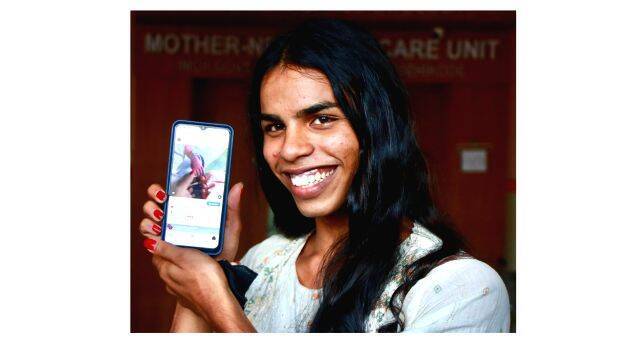 KOZHIKODE: Kerala transgender couple Zahad and Ziya has been blessed with a baby. Zahad, delivered the baby at the Institute of Maternal and Child Health in Kozhikode Medical college. The birth of the baby is special as it's the first transman pregnancy in India. Zahad will be called as father and Ziya as the mother.
Both father and daughter are healthy and are at Kozhikode Medical College.
Thiruvananthapuram native Zahad gave birth to the baby girl around 9.30 am Wednesday morning. The baby was reportedly born through a cesarean section. Kozhikode native Ziya Paval, a dancer and a dance teacher, is Zahad's wife. Although both of them are transgenders, they haven't fully completed the gender affirmation surgery.
They started living together three years ago. Zahad was preparing to undergo sex reassignment surgery to become a man. The breast was removed. But the uterus was not removed.
Although Ziya started hormone therapy to become a woman, she did not undergo sex reassignment surgery.
Meanwhile, both of them wanted to have an own child. When they consulted Sreekumar, Superintendent of Institute of Maternal and Child Health in Medical College, they got a report that there was no problem.
Finally, yesterday morning they became parents of a baby girl. Kozhikode Medical College Gynecology Department Head Dr Jyothilal led the surgery. Although Ziya's family did not accept her, Zahad's family is with him. His mother is by his side for delivery.
There are concerns that whether the law that considers the person who give birth as mother and the partner as father, will be a challenge to the couple. They have demanded to accept Zahad as the father. A legal battle may be required to get the birth certificate. Zahad is Ziya's husband on the transgender document.