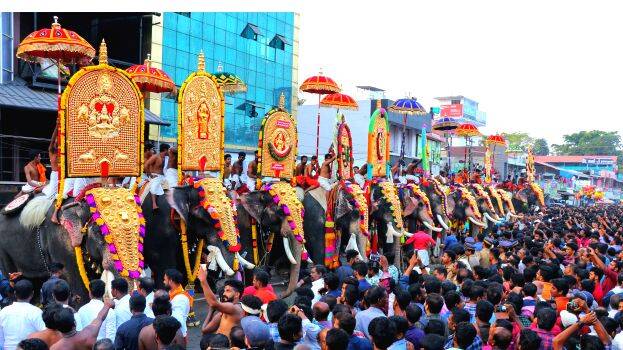 KOCHI: The mahouts and the tuskers in Kerala are overdone and are deprived of sleep for months. The temple festivals are galore over Kerala and the demand for elephants peaks at an all-time high. According to state records, there are 443 elephants registered. Among these only 350 are eligible for temple processions. Since the demand is breaking the roofs, not many rules are being followed and the owners are tempted to give the elephants for whooping offers.
The payment differs among different elephants. For celebrated tuskers, the daily payment goes up to three lakh rupees. It has turned to a new normal that many temple committees are reserving a good lot of savings not just to conduct the festival but a lion's share goes to assembling these tuskers on the forefront. The past two months were soaked in festivals. Tuskers and the mahouts were hassling from one temple to another, and this has also gifted the inevitable to many venues.
In Palakkad, one famed tusker was seen nearly fainting after gracing festival in the searing noon with no rest. The officials and authorities are batting no eyelid into this issue. Thrissur tops the list with most festivals that include elephants. Nowadays, churches and mosques are also going the traditional way in roping the pachyderms to grace religious festivals.