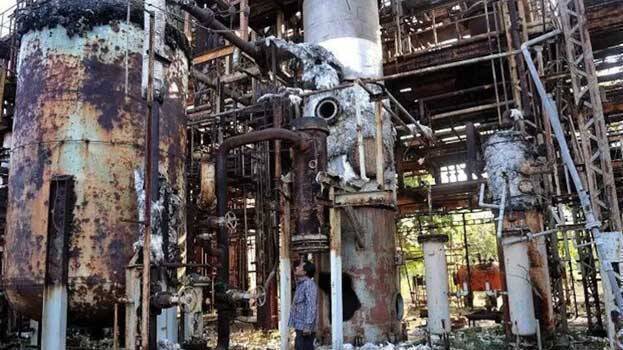 NEW DELHI: The Supreme Court has rejected the plea filed by the Centre demanding to increase the compensation of the victims of the Bhopal gas tragedy. The centre demanded more compensation from American based Union Carbide factory which was responsible for the 1984 tragedy. A five-member bench headed by Justice Sanjay Kishan Kaul declared the judgment on the petition.
The centre filed a petition to reconsider the case related to Bhopal Gas Tragedy and also demanding an additional compensation of Rs 7844 crore from American company Union Carbide for the victims of the tragedy. The government had also argued that at the time of the settlement of the case in 1989, the true extent of the disaster to human life and the environment could not be properly assessed.
But the court rejected the arguments of the government. The Supreme Court rejected the Centre's demand, holding that the old settlement could be avoided only on the ground of fraud, but the Centre had not argued pointing this issue. There is no logic in raising the issue after two decades. The Supreme Court has clarified that the Rs 50 crore compensation held by the Reserve Bank can be used to settle the case.
Advocate Harish Salve, appearing for the successors of Union Carbide, told the court that the depreciation of rupee since 1989 cannot be considered as a reason for increasing the compensation. Harish Salve told the court that the central government did not say that the amount was insufficient at the time of the settlement. In the 1989 settlement, Union Carbide had paid Rs 715 crore as compensation.
On December 2, 1984, a highly toxic gas Methyl Isocyanate leak occurred at the Union Carbide factory. The disaster, which killed more than 3,000 people, is considered one of the worst industrial disasters in the world. More than 100,000 people suffered. Warren Anderson, then chairman of Union Carbide, was the main accused in the case related to the disaster. But Warren did not appear in court. In 1992, a Bhopal court declared Warren absconding. The court had also issued two non-bailable warrants before Warren's death in 2014.
On June 7, 2010, a Bhopal court sentenced seven executives of Union Carbide India Limited to two years in prison. Subsequently, in December 2010, the Centre submitted a curative petition to the Supreme Court seeking an increase in the compensation amount.