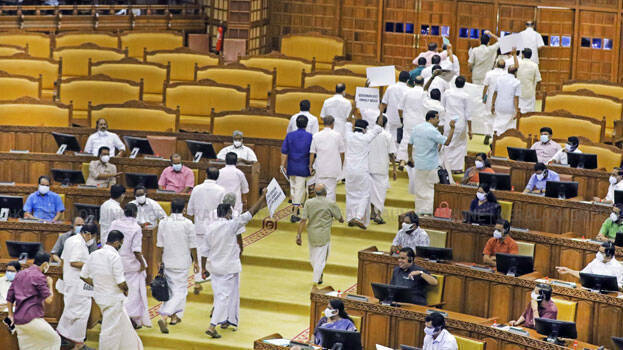 THIRUVANANTHAPURAM: Like yesterday, the assembly was adjourned for the day on Friday after cancelling the question hour. The assembly met for only nine minutes today. The assembly was adjourned amid protests in connection with the cases registered against congress MLAs under a non-bailable offence over the alleged attack on watch and ward during the ruckus in front of the office of the speaker.

As soon as the question hour started, the opposition raised slogans and protested. The protest began after the Speaker refused to allow opposition leader V D Satheesan to raise the issue during question hour. Opposition leader V D Satheesan said seven MLAs who were plaintiffs have become suspects. A case was registered against them under non-bailable section. The opposition protested against this. The opposition continued to protest during question hour. The speaker then switched off the opposition leader's mike.

The ruling party raised protests against the opposition. Sachin Dev MLA said the opposition has the approach of obstructing the question hour. The opposition shouted slogans and trooped to the well of the house with placards. The speaker then canceled the rest of the question hour. The submission was tabled. The Speaker accused the opposition for not cooperating with the assembly proceedings despite repeated requests and termed as disappointing. The assembly will meet again on Monday morning at 9.30 am.