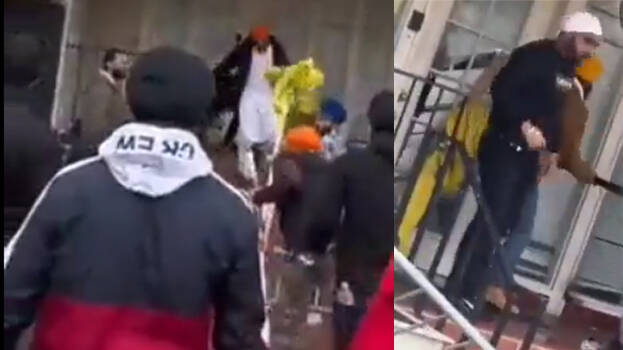 SAN FRANCISCO: Attack by Khalistan supporters on the Indian consulate in San Francisco, USA. The attackers also shouted slogans in favor of Waris Panjah De leader Amritpal Singh. The assailants smashed the doors and windows of the Indian consulate with sticks bearing the Khalistan flag. The attackers also broke down the barricades blocking entry.
'Free Amritpal' was spray painted on the perimeter wall of the Indian Consulate building. They recorded the video of the attack and shared it on social media including Twitter. Last day, supporters of Khalistan attacked the Indian High Commission at the consulate in London. They dishonored the national flag and hoisted the Khalistan flag instead of the national flag.
At the same time, Imaan Singh Khara, Legal Advisor of 'Waris Punjab De' informs that Khalistan leader Amritpal Singh, who escaped from the hands of the police, has been arrested. Imaan Singh says that Amritpal is now in the Shahkot police station in Punjab and plans are being made to kill him in a fake encounter. The lawyer has filed a Habeas corpus petition in the Punjab Haryana High Court on Amritpal's behalf. Meanwhile, the police have not yet commented on the arrest.