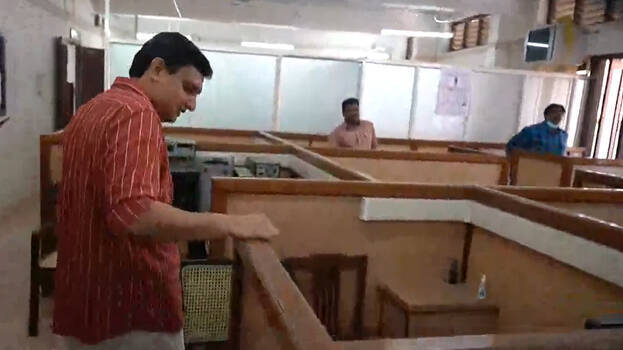 THIRUVANANTHAPURAM: Minister PA Mohammad Riyas conducted a lightning inspection at the office of the Chief Architect of the Public Works Department following a complaint that the employees are not punctual. The minister examined the records of the architect's office and related institutions. The minister was angered that the employees did not arrive at the office even after 11 am. Even after 20 minutes of asking for the punching register, the minister had not received it.
Movement register, casual leave, register, cash declaration, stock register, punching statement etc. were examined. The total number of employees in the office, the number of employees who took leave in writing and the number of employees who took unauthorized leave were also checked. On inspection, it was found that there was only one entry in the cash register.
After finding irregularities in the punching statement, the vigilance department of the Public Works Department was tasked with the investigation. The biometric punching system wasn't linked with SPARK in the office of the chief architect, and the minister asked for immediate action on its implementation.
The minister informed that the inspection was conducted after receiving a complaint that some of the employees leaves the office after punching. "The employees have no punctuality regarding coming to the office and leaving it. E-office filing is not done regularly. The reforms regarding the punching system have been said in many meetings earlier", he said.
"In the meetings, the employees said that everything was going well in the office, but on direct inspection, it was found that many things were in shambles. There will be no compromise in this regard", the minister added.
He also pointed out that it is an important responsibility to come to offices on time and work.