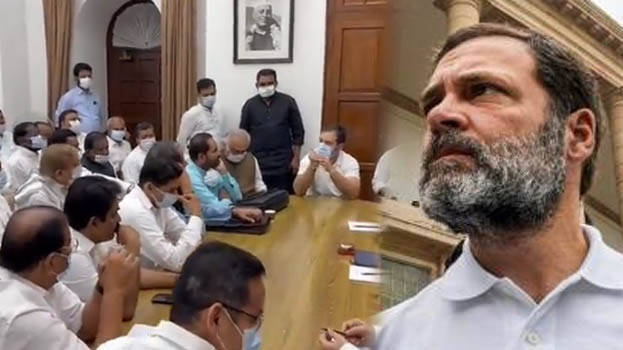 NEW DELHI: Congress leader Rahul Gandhi sentenced to two years imprisonment in a defamation case criticizing Prime Minister Narendra Modi, reached the Parliament today. He attended the Lok Sabha proceedings after lawyer Vineet Jindal filed a complaint with Lok Sabha Speaker Om Birla to disqualify him. In the meanwhile, the Lok Sabha was adjourned due to the commotion.
Tight security arrangements have been made at the Congress headquarters in Delhi after the party called for a strong protest by mobilizing their activists. Congress is marching towards Vijay Chowk. Security arrangements have been strengthened here as well.


Meantime, 14 parties approached the Supreme Court as part of intensifying the legal battle against the central government. The complaint said the centre is misusing the central agencies, the Enforcement Directorate and the CBI, to trap only the leaders of the BJP's opposition parties. These parties also allege that if a leader joins the BJP after an allegation is made, the case against them will be weakened or lost.

Congress, Trinamool Congress, Janata Dal (United), Bharat Rashtra Samithi, Rashtriya Janata Dal, Samajwadi Party, Shiv Sena (Uddav Thackeray wing), National Conference, DMK, NCP and Left parties have approached the court.