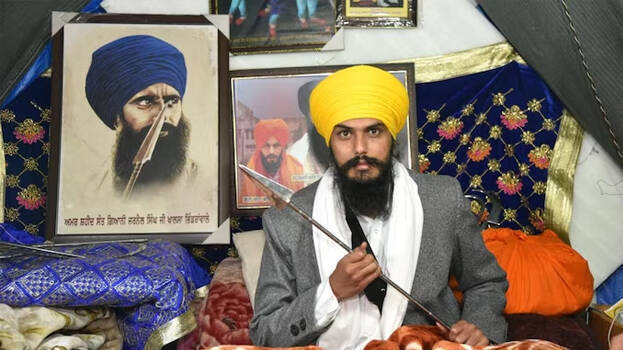 NEW DELHI: It is being found that those helping fugitive Amritpal Singh with safety taverns are ladies. For ten days and counting, Amritpal is on the loose and according to police findings, it is the women friends of Papalpreet Singh that helped Amritpal disguise himself and escape the police from Patiala to Delhi.
Amritpal and mentor Papalpreet first reached Haryana. They were given a stay by Baljit Kaur. Then, the two asked for cell phones from Kaur's brother and weaved plans of escape. Kaur was later arrested by police. On March 21, Preet and Amritpal reached north Delhi, where they took abode at another of Papalpreet's lady friend's house. She got into touch with Singh during the infamous farmers' protest. Later to the police, the lady revealed about not knowing the real identity of Amritpal Singh.
The CCTV visuals near Madhuvihar caught a turbanless Amritpal sauntering down the streets. Later, the Punjab intelligence agencies confirmed it as Amritpal. More than 10 lady friends who helped Papalpreet are currently under arrest. Their social media accounts and phone calls are being scrutinized by police. After the arrest of Baljit Kaur, both Papalpreet and Amritpal are adopting more caution.
Meanwhile, reports emerged about Amritpal surrendering in Jalandhar. The security in the region has been beefed up. The golden temple is also placed under heavy police shielding.