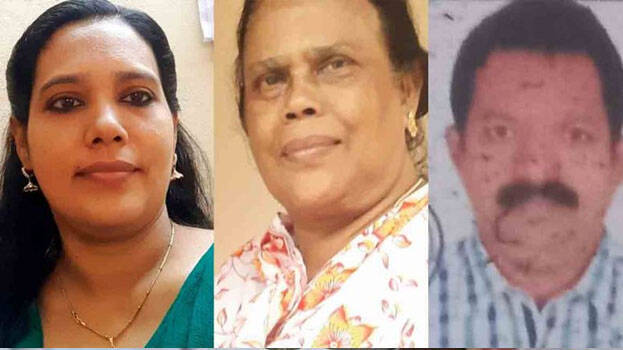 THIRUVANANTHAPURAM: The police updated that Ali Akbar (56) of Aruvikkara Azhicode killed his wife Mumtaz (47) and mother-in-law Zaheera (67), due to debts and family problems. The police found an eight-page suicide note written by Ali Akbar from the house.

Ali Akbar is the Senior Superintendent of the Nursing College of Thiruvananthapuram Medical College. He tried to commit suicide by pouring petrol on himself and setting himself on fire after killing his wife and mother-in-law. He is in critical condition now. Mumtaz was a teacher at Nedumangad Higher Secondary School. The tragic incident that shocked the state took place at four in the morning today at the house in Pulikuzhi near Valavetti.
What the police is saying: Ali Akbar, his wife Mumtaz, their daughter Arshita and Mumtaz's mother Zaheera were the ones in the house on the day of the incident. Their son Arfan, who is an engineer at Infopark, was in Ernakulam.
Ali Akbar, a native of Manakkad, and his wife Mumtaz, a native of Nedumangad Anad, built a house in Valavetti Pulikuzhi 15 years ago. As the marital problems had worsened, Ali Akbar was living on the first floor and Mumtaz and her children along with her mother Zaheera were living on the ground floor. A petition for divorce has been filed in the Nedumangad family court.
When Mumtaz, who was fasting during Ramzan, went to the kitchen in the morning to prepare food, Ali Akbar, who was waiting there, slashed her neck and hit her on the head with a hammer. Ali Akbar also cut Mumtaz's mother Zaheera, who rushed in hearing the screams. Their daughter Arshita came running after hearing the cries but was chased away. By the time Arshita ran to the neighbor's house and returned with a crowd, Mumtaz and Zaheera were unconscious and bleeding.
Seeing the neighbors coming, Ali Akbar entered a room, poured petrol on his body, and set himself on fire. He became unconscious after getting severely burned. Aruvikara police reached the spot and took all three to the hospital, but Zaheera died on Thursday morning and Mumtaz at 5:30 in the evening. The cause of death was the fatal cut to the neck, hammer blow to the head and screwdriver stab to the body. The magistrate recorded Ali Akbar's statement that it was he who committed the crime. Zaheera's body was handed over to her relatives after post-mortem. Mumtaz's body was shifted to Medical College Mortuary for post-mortem. Aruvikara police has registered a case.