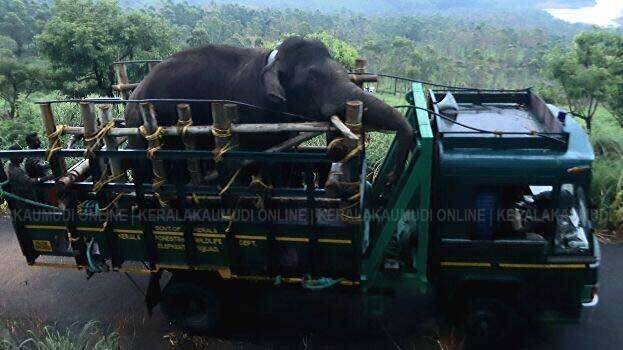 IDUKKI: Dr Arun Zacharia, chief veterinary surgeon of the forest department, said Arikomban captured from Chinnakanal yesterday and brought to the Periyar Tiger Sanctuary, has a deep injury on his body. Arikomban was tranquilized by a group led by Dr Arun. Arun said the tusker sustained injuries in a fight with Chakkakomban, but they are not serious.
The health condition of the tusker is presently satisfactory. Arikomban was treated before released to the forest. The treatment will continue. Arikomban released to the inner forest of Periyar Tiger Reserve will be observed through radio collar. The first signal has been obtained. The first signal was received at 1 am in the morning.
Cannot be said five shots were given. A top up dose was given which does not affect its health. Arikomban will take time to adjust to the new place. He has been treated for the injuries. The reception accorded to Arikomban everywhere including at Kumali while shifting from Chinnakanal, is a great example, said Dr Arun.
The mission to capture Arikomban by a team led by Dr Arun Zakaria, which started on Friday, failed on the first day. The mission started on the second day by resuming the search after spotting the tusker at Sankarapandyamedu, 301 colony and Aanayirangal areas.

The locals spotted Arikomban and Chakkakomban at 92 Colony between Suryanelli and Sinkukandam at 7.30 am. The rapid response team (RRT) burst crackers and shifted Chakkakomban to a far away place and later spotted Arikomban in between the eucalyptus trees at 10 am. A decision was taken to dart the elephant when it reached the cement bridge at 11 am. The first booster was given at 11.57 am and it was later seen resting in between some trees.
Then four booster doses were given to Arikomban at regular intervals. The team approached the tusker with the help of four Kumki elephants and tied its legs with ropes. Even in half sedation the tusker tried to resist.

The tusker was brought under control by 2.50 pm after tying its legs with ropes. A path was carved out with earthmovers and then a lorry was brought to the spot. Though rain played a spoilsport, with the help of four kumkis tried to push Arikomban to the lorry but it resisted and later a fifth shot was given. The elephant was made to enter the vehicle by 5 pm.