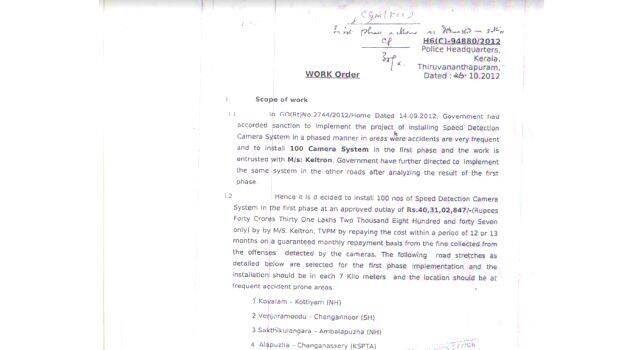 THIRUVANANTHAPURAM: While the opposition is repeating allegations of corruption in the AI ​​camera deal, the documents of similar purchases of cameras during the UDF regime have come out. Even then, Keltron, which implemented the project, was giving subcontracts to private companies.
In 2012, when Oommen Chandy was the chief minister, it was decided to install cameras to detect violations of traffic rules. 54.6 crore was given administrative sanction for the project for the police.
Keltron was given the task and they subcontracted it to Mediatronics and RP Tech Soft International which were private companies. 20.30 lakh was spent on one camera. Only 100 cameras were installed at a cost of 40.31 crores. The warranty in the contract was only one year. In the Safe Kerala scheme, the price was decided upon inclusive of maintenance costs for five years. The contract was on a boot basis then as well. There was also a condition that the amount should be transferred within 12 months. The decision was to find the repayment amount from the fines levied for violations.
For speed detection
The agreement was to install speed detection cameras to detect the excessive speed of vehicles in places where there are frequent accidents. It was decided to install cameras in more places later after evaluating the operation in the first phase.
Administrative sanction for the project: 54.6 crores
Cameras purchased: 100
Camera cost: 40.31 crores