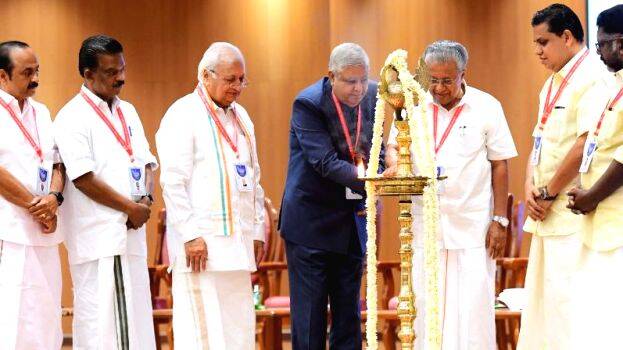 THIRUVANANTHAPURAM: Vice President Jagdeep Dhankhar said that Kerala is a model for the country. He said this by pointing out the state's progress in the health and education sectors. The Vice President was inaugurating the Silver Jubilee celebrations of the Kerala Legislative Assembly at the R Sankaranarayanan Thampi Hall of the Legislative Assembly.
Highlighting Kerala's rich renaissance and cultural heritage, Dhankhar praised Kerala and the Malayalis. He also spoke highly about the natural beauty of Kerala. He also spoke about the contributions of Sree Narayana Gurudeva, Chattampi Swamikal, Chavara Elias Kuriakose, Vakkam Abdulkhadar Moulavi, Chithirathirunal Balaramavarma, Marthandavarma, Mammootty, Mohanlal, Yesudas, KS Chitra, MA Yusuff Ali, PT Usha, Dr Varghese Kurian, E Sreedharan, G. Madhavan Nair. , Justice Fathima Beevi, Manuel Federic, Anju Bobby George and others.
He referred to EMS Namboothiripad, who gained global fame by bringing the first communist cabinet to power through the ballot paper, and how that government was the first victim of the constitutional system.