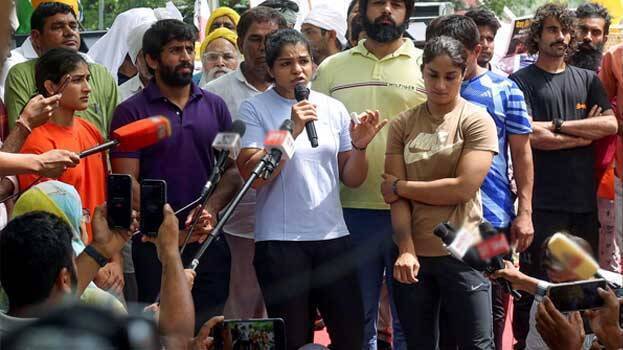 NEW DELHI: The ongoing wrestlers' protest in the national capital has taken a new toll as India's star grapplers Sakshi Malik, Bajrang Punia and Vinesh Phogat have declared to throw their medals in River Ganga in Haridwar on Tuesday evening. The wrestlers took to Twitter and shared a post about the chain of events that have unfolded in recent days and the way authorities handled the situation.
The protesting wrestlers said that they will visit Haridwar and throw their medals in the Ganga at 6 pm on Tuesday. They said they will sit on a hunger strike at India Gate after throwing their medals.
In their post, the wrestlers said, "You saw everything that happened on May 28, how police treated us and the way they arrested us. We were protesting peacefully, our place has been taken away and the next day serious cases and FIR were filed against us. Have the wrestlers committed any crime by demanding justice for the sexual harassment that happened to them? The police and the system are treating us like criminals, while the oppressor is taking jibe moving freely. He is even openly talking about changing the POSCO Act."
Several ace grapplers including Bajrang Punia, Vinesh Phogat and Sakshi Malik have been protesting against the Wrestling Federation of India (WFI) chief Brij Bhushan Sharan Singh accusing him of sexual harassment and demanding his arrest.
"It is not less than death for us thinking of returning medals but how can we live compromising our self-respect? We don't need these medals anymore. If we speak against exploitation, they prepare to put us in jail," the wrestlers said.
"We are going to shed these medals in the Ganga. Our medals which we earned after hard work are as sacred as River Ganga. These medals are sacred for the entire country and the right place to keep the sacred medal can be holy Ganga and not our unholy system which masquerades us and stands with our oppressor after taking advantage of us. The medal is our life, our soul. We will sit on hunger strike at India gate till death," the wrestlers added.
On Sunday, India's Olympic medallist wrestlers Sakshi Malik, Bajrang Punia along with Vinesh Phogat and Sangeeta Phogat were detained by Delhi Police while attempting to march to the new Parliament building where they planned to stage a demonstration.