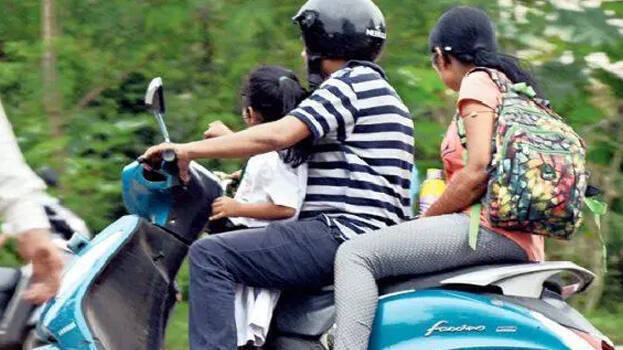 NEW DELHI: The center has taken a strict stand that travelling with children on two-wheelers cannot be permitted under any circumstances. This was informed by Union Road Transport Minister Nitin Gadkari in his reply to the letter of Elamaram Karim, CPM member of Rajya Sabha. Karim in his letter requested that children under the age of ten be allowed to travel on two-wheelers with their parents.

Kerala had earlier requested the centre to allow three including one below 12, to travel on two-wheelers. However, the centre has not yet responded to this letter. The decision taken in the high-level meet was not to impose fine till a decision is taken in the letter. As the stand of the centre is clear, it is to be known what decision the state will take. The transport department had earlier decided not to impose fine if a child is traveling along with two adults on a two-wheeler. While the allegations of corruption in the camera deal stoked a controversy, they withdrew after realizing that there would be public outcry if a fine is imposed for traveling with children.
Meantime, fines will be imposed for traffic violations detected through 726 AI cameras installed in the state from tomorrow. A technical committee headed by additional transport commissioner Pramoj Shankar submitted a report to the government yesterday mentioning of no anomaly in starting the functioning of the cameras.
Terms with Keltron regarding the operation of the camera are yet to be finalised. Further discussions will be held as directed by the technical committee. Keltron will make the damaged cameras functional within the specified time. The motor vehicle department will provide assistance in levying compensation for cameras damaged in accidents etc. On the model of KSEB, compensation is also being considered if camera posts are damaged in road accidents. Officials of the motor vehicles department said that they are considering preparing a security system for the cameras.