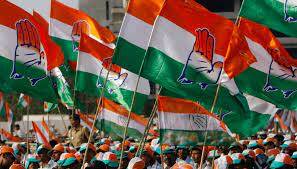 K Sudhakaran for persuasion
THIRUVANANTHAPURAM: While the state Congress leadership indicated that there would be no change in the reshuffle of block presidents, the A, and I group leaderships were intensifying their protest.
High Command to be approached jointly.
The leaders of the two groups met together at a five-star hotel in the capital yesterday and decided to move against the unilateral actions of the state leadership. The meeting said that the Mission-24 assignment, which was decided in view of the Lok Sabha elections at the Wayanad Leaders' Meeting, became the Mission 24 of the leadership to gain full control of the party. Ramesh Chennithala, MM Hasan, KC Joseph, Benny Behanan, Joseph Vazhaikan and MK Raghavan MP who is close to Shashi Tharoor MP also participated.
The high command will be made aware that there was no consultation in the appointment of block presidents and there was a breach in the atmosphere of unity created in the Wayanad leaders' meeting. The trip to Delhi will happen after knowing the convenience of AICC President Mallikarjun Kharge and other central leaders.
It is agreed that the MPs with grievances should approach the High Command separately. Although the final list was drawn up in joint consultation with KPCC president K Sudhakaran and the leader of the opposition VD Satheesan, there are indications that the group leadership is targeting VD Satheesan mainly. Their feeling is that it is Satisan's stubbornness that is creating an obstacle to the consultation. Meanwhile, KPCC president K Sudhakaran started a persuasive move yesterday as the group leaders are hardening their stance. He met with Ramesh Chennithala and MM Hasan.
The High Command will not be approached showing that the groups lost out in the reorganization of block presidents. Instead, the protest against the manner in which the reorganization was implemented will be highlighted. There is a need for the state leadership to be ready to consult and take the leaders into confidence. The lost unity in the party should be restored. The decision in the leaders' meeting to complete the reorganization in consultation with the senior leaders was not implemented. Out of a total of 282 block presidents, the seven-member sub-committee on reorganization unanimously recommended around 170 names. 112 names were decided by the opposition leader and the KPCC president themselves. Previous KPCC presidents were not consulted. Not taking senior leaders into confidence is unacceptable. If this continues, constituency and booth reorganization will also be affected. Those who said that there is no group-based discussion are the same ones that are distributing the positions with each other spreading the word that the glory of the old A group is no longer there and those who are with Ramesh are on different sects. The meeting considered that this is the creation of a new group.