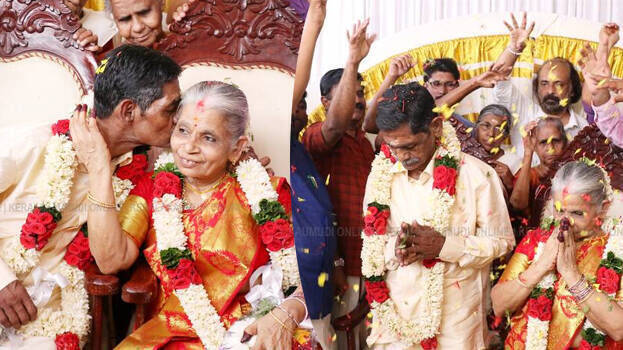 THRISSUR: Of the couple, who got married at an old age home in Ramavarmapuram, the husband had passed away. Kochaniyan, an inmate of the old age home, has died. The body will be cremated at Lalur crematorium at 11:30 am today. Kochaniyan and Lakshmi Ammal got married on December 28 in 2019.

Kochaniyan and Lakshmi Ammal got married in the presence of former agriculture minister V S Sunil Kumar. The then mayor Ajitha Vijayan held Lakshmi Ammal's hands and brought her to the mandapam. The thali (mangalsutra) was bought with the money of the inmates.
Lakshmi Ammal of Pazhayanadakkavu in Thrissur had got married at the age of 16. Her husband was 48-year-old Krishna Iyer, a chef known as 'pachaka swamy'. Kochaniyan also used to play nadaswaram then at the Vadakkumnatha Temple. Kochaniyan later stopped playing nadaswaram following his friendship with swamy and worked as an assistant for him. Swamy passed away 20 years ago. Kochaniyan had expressed his desire to marry Lakshmi Ammal, who was alone without children, but she did not agree at that time.

Kochaniyan got married later but his wife had died. In the meanwhile, Lakshmi Ammal reached the old age home in Ramavarmapuram three years ago. Kochaniyan used to visit Lakshmi Ammal. Kochaniyan, who collapsed once in Guruvayur was taken to the hospital and then brought to an old age home. He was later shifted to the old age home in Ramavarmapuram after being informed about Lakshmi Ammal. The department of social justice had allowed those living in old age homes to marry legally if they liked each other.