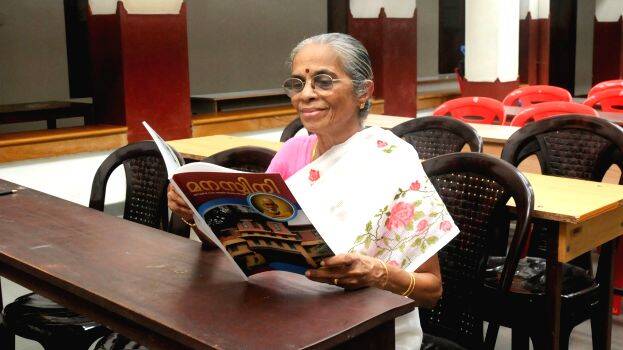 KOCHI: Dr. MR Santhadevi. This 75-year-old studied the mysteries of the sea as a scientist at the Defense Research and Development Organization (DRDO). From nursery students to researchers, she taught many people for free. She has no children but is the mother of many disciples. Most of the pension amount is being spent on these children.
Apart from Physics, Chemistry, Maths, English, Sanskrit and Vedanta, she is good at dance as well. She studied Bharatanatyam under RLV Midhuna Atheesh and had her Arangetram recently. While in the service, she also learned Russian as part of her job. Her husband Gopalakrishnan, who was a tour guide, supports her in everything. Both of them are from Ernakulam and are living in Shantiniketanam Community Home in Vaduthala after giving their two-storied house in Vaduthala to a relative. She wakes up at four in the morning and prepares the lessons for the day. There are classes at SNV Sadanam and other centres. School-college, research students, and those preparing for entrance exams come to attend her classes.
Father's advice
Her second life began when she took over the responsibilities of the library at SNV Sadanam. The most valuable lesson was the advice of her father KM Ramdas that only if you study well and get good marks you will get a good job. Her father also advised her to share what she had learned with those who deserved it without accepting anything in return. She passed her undergraduate degree from Maharaja's College with top marks. Prof PS Velayudhan, who was the principal and a neighbour, advised her to join Special B.Sc. She managed to get first rank in M.Sc Physical Oceanography from the Kochi School of Marine Sciences and a Doctorate. Got a job in the Naval Physical and Oceanographic Lab at DRDO. 36 years of service and retired at the age of sixty. Travels to countries including the US and Europe with husband.
Body to medical college
Simple food, little sleep, yoga and restless activity. That is her schedule. No savings. Both of them have given consent to release their bodies to medical college students after death.