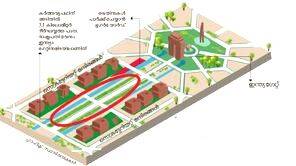 NEW DELHI: A self-propelled metro train known as the Automatic People Mover (APM) is set to connect the four newly constructed Central Secretariat building complexes underground spanning both sides of Karthavyapath from Vijay Chowk to India Gate within the Central Vista. Three-coach trains will continuously operate along this route, primarily designed for the convenience of tens of thousands of employees and visitors to various ministries. The primary objective is to reduce reliance on private vehicles and promote environmental sustainability.
Access to the underground APM line will be facilitated through the Central Secretariat Metro Station located near the Parliament. This will involve the integration of Delhi Metro's Yellow Line (Samapur Badli - Huda City Center) and Violet Line (Kashmiri Gate - Raja Nahar Singh) with the Central Secretariat station. During peak morning and evening hours, it is anticipated that up to 20,000 passengers will utilize this service.
Key features of the APM project include a 3.1 km elliptical route beneath Karthavya Path, driverless train operations, an Operations Control Center to manage various functions such as stopping, exiting and operating doors, each train consisting of three coaches accommodating between 764 to 970 passengers during rush hours, and designated stops at ministry stations allowing travelers to access their destinations conveniently.
Furthermore, an underground yard will be established for the parking and maintenance of trains, and the Delhi Metro Rail Corporation (DMRC) will prepare a comprehensive project report. Consultants will be engaged for the design of the trains and stations. This transformative project covering a three-kilometer stretch between Rashtrapati Bhavan and India Gate aims to connect the Secretariat buildings on both sides of Karthavyapath. It is slated for completion by 2026.