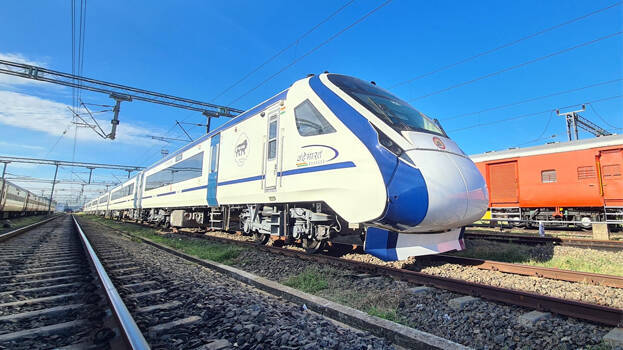 CHENNAI: Prime Minister Narendra Modi flagged off nine Vande Bharat Express trains in the country on Sunday. The new service is on major routes in various states including Kerala. Vande Bharat which started service from Chennai to Vijayawada is really a boon for the devotees going to Tirupati. The journey from Chennai takes three hours in other trains. However, the new Vande Bharat Yatra saves an hour and a half.
Thousands of devotees visit Tirupati from Chennai. With the launch of the new Vande Bharat service, the three-hour journey has been reduced to an hour and a half. Vande Bharat starting from Chennai covers a distance of 136 km and takes 95 minutes to reach Renigunta station near Tirupati. It is only nine kilometers from here to the Tirupati temple.

The daily Saptagiri and Garudadri Expresses on this route take two hours and 40 minutes to reach the place. Now those who reach Tirupati by Vande Bharat Express from Chennai can reach Tirupati Venkatachalapati in an hour and a half. New Vande Bharat is a big relief for the devotees.

Meantime, the distance from Chennai to Vijayawada is 514 km. Vande Bharat takes six hours and 40 minutes. Vande Bharat will operate on this route on all days except Tuesdays. The train that departs from Chennai at 5.30 am will reach Vijayawada at 12.10 pm.

Meantime, the other Vande Bharat Expresses that started on Sunday are Udaipur Jaipur, Tirunelveli Madurai Chennai, Hyderabad Bengaluru, Patna Howrah, Rourkela Bhubaneswar Puri, Ranchi Howrah and Jamnagar Ahmedabad. The train allotted to Kerala and Rourkela Bhubaneshwar Puri Vande Bharat Express are faster.

Three hours faster than the trains running on the same routes. Rourkela Bhubaneswar Puri Vande Bharat Express and Tirunelveli Madurai Chennai Vande Bharat Express will connect major pilgrimage cities of Puri and Madurai.