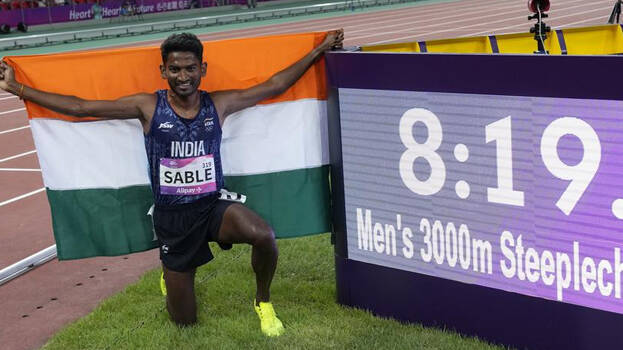 HANGZHOU: It is glittering gold for India In the Asian Games 2023. On Sunday, India secured two golds with Avinash Sable winning gold in the men's 3000m steeplechase. Sable rewrote history breaking all records by finishing in 8:19:50 seconds to claim the gold.
India's second gold on Sunday came from shot put star Tajinderpal Singh Toor. Singh with a throw of 20.36m ensured the top honours in the games. With this, India has won 13 gold medals in the Games so far. India has thus jumped to the fourth position in the medal table. India's medal cabinet is now filled with 45 medals including 13 gold, 16 silver, and 16 bronze.
Earlier today it was India's Aditi Ashok, who kicked off India's medal hunt by winning the individual silver in women's golf. The trap team consisting of Rajeshwari Kumari, Preeti Rajak, and Manisha Keer won silver in the shooting event. Kynan Chenai, Zoravar Singh Sandhu, and Prithviraj Toindaman won the gold medal for India in the men's trap team with an Asian Games record of 361.
Meanwhile, in women's boxing, Nikhat Zareen lost in the semi-finals of the 50 kg category and had to settle for bronze. China, the host, has won 229 medals including 121 gold, 71 silver, and 37 bronze medals.