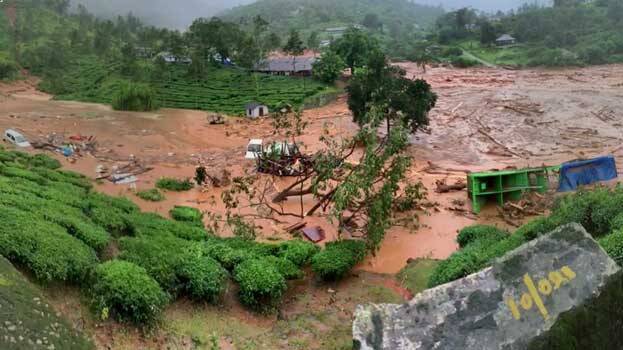 WAYANAD: The visuals from Meppadi in Wayanad is indeed chilling as an entire village got wiped out due to the landslides following heavy rains. Almost 50 persons have been reported missing as the conditions turn extremely difficult for those involved in rescue operations. The situations in Nilambur is also similar.
According to sources, roads in the area got completely damaged, making it even more difficult for rescue operations. A witness, who is yet to recover from the shocking event, recollected his experience about how the calm village area suddenly transformed into a tragic one. He said, "We were standing in front of a local tea shop and were looking at the nearby bridge. While some were having tea in front of the shop, others were casually sitting in the shop. Suddenly, there was a huge noise and all started running to safety. We realised that there has been a landslide and soon we heard cries for help. Though it was not clear due to heavy rain, we realised that the church at the top has been destroyed. A nearby quarters, a canteen, two or three cars, all got completely submerged in mud. People in those buildings including a one and a half-year-old child is missing."
"I was frozen to death when I saw a hand dangling in the mud. I have never seen such a sight in my life and did not know what to do as it was a completely helpless situation. The condition is so bad here that no rescue operation is possible. All those who survived are currently at the Forest office," he added. It has been reported that 4 people are being trapped inside a car and rescue operation seems impossible without a helicopter. According to Hussain Chooramala, a Karate instructor living in Meppadi, the situation is very bad as many houses, temples, and churches got completely destroyed by the landslide. Those who were saved from the ruins have been admitted to VIMS hospital.