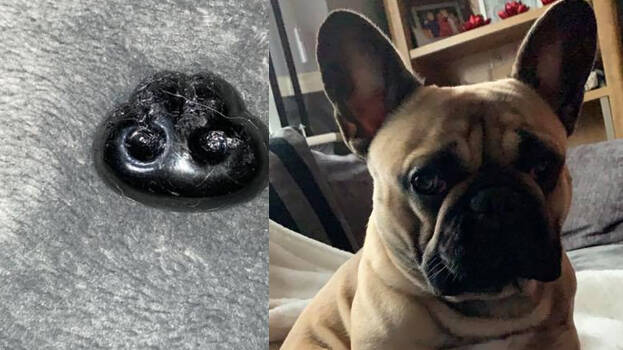 Will a dog's nose fall off its face? This might sound interesting and unbelievable. But a Facebook post of a UK girl named Jade Murray is going viral on the internet for the same reason. However, there is a twist to this tale at the end of the post.
Jade's Facebook post:
"So I'm sitting there playing with Lenny as you do…until something on the floor caught my attention. I had no idea what it was, so I picked him up and put him outside to assess the situation further. I had a closer look only to discover his nose had fallen off and was just lying there on the floor. His actual nose was on the fucking floor. I started freaking out thinking he's never going to sniff piss again on his walks and I know he loves doing that, I was thinking he must be in pain, I was also thinking how on earth am I going to tell my mum that whilst in my care - the dogs nose has managed to fall off.
Anyway, I eventually plucked up the courage to pick it up because I thought nah surely not, this cannot be...only to then realize he's bitten the nose off one of his soft toys and his nose still remains"
Jade's Facebook post with the pictures of the toy's nose and her dog has gone viral with over 51,000 likes and over one lakh shares. Those who saw the pictures said that the nose looks real and Jade cannot be blamed for misunderstanding.