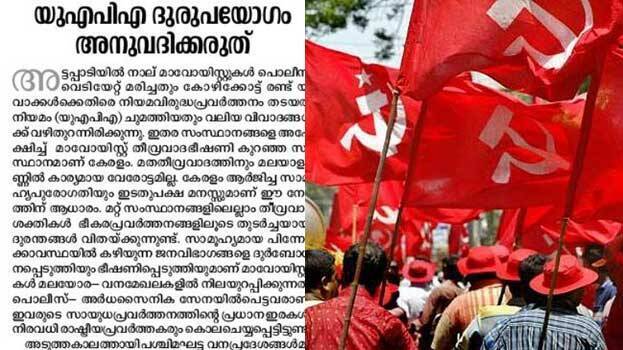 THIRUVANANTHAUPRAM: The CPM has given a reply to the CPI and the opposition against their stand on the Maoist killings in Attappady in the party's mouthpiece. The opposition is trying to put the police and the government on the defensive by belittling the Maoist terror. The aim of those against the Maoist attack is to take advantage of them, the mouthpiece said. Misuse of UAPA should not be permitted, the editorial in Desabhimani pointed.
Kerala is less Maoist-threatened than other states. Religious extremism has no significant roots in the Malayalam soil. The Left's mind is the basis for this achievement. In all other states, militant forces continue to spread disasters through terrorist activities.
The Maoists' stay in the hilly and forested areas after intimidating the socially backward classes. Their main victims are those belonging to the police and paramilitary forces. Many politicians have been murdered, the mouthpiece said.
Kuppu Devaraj, who led the naxal activities in Chattisgarh, native of Andhra Pradesh, died in an encounter with police at Nilambur in November 2016. The Maoists attacked the thunderbolts who were involved in a search inside the forests. A controversy also surfaced that police had shot them at point black. The opposition and some media tried to blame the LDF government for the incident. The investigation proved that it was not a fake encounter.
UAPA is a black law. The CPM and the Left had opposed it on the possibility of misusing it. This government had cancelled eight UPA cases filed by the UDF government. A detailed examination is underway here and the government will not tolerate any kind of injustice, assured chief minister assured.