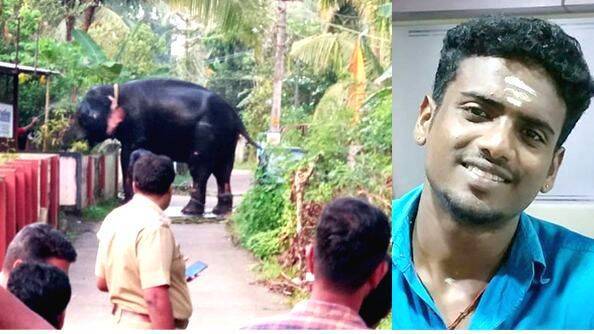 KOTTAYAM: A mahout met tragic death after an elephant ran amok here in Chengalam. The tusker on its way to get chained down in Chengalam after a procession in Thirunakkara Mahadeva Temple ran amok near Illikkal Aambakkuzhi.
Thirunakkara Shivan, the tusker, was in treatment for must for the past three months. The deceased mahout Vikram (26) is a native of Sreevaraham in Thiruvananthapuram.
The tusker ran for some distance before stopping in front of a bus that came to a halt on seeing the charging animal. The tusker then tried to lift the bus. The bus was full with passengers. The window shield of the bus was destroyed. Vikram was atop the tusker at this time.
Vikram was trying to get down by hanging to the chain on the tusker's body. The tusker meanwhile tried to go through a narrow space between the halted bus and an electric post, crushing Vikram in the process. The locals managed to bring Vikram down and take him to Medical College Hospital, but couldn't save his life. The tusker then ran towards Chengalam area and stood in the middle of Maruthana Edakkerichira Road.
The tusker was kept chained in Chengalam for training as there was a change in the mahout. The tusker was in must and was illegally taken for procession recently.