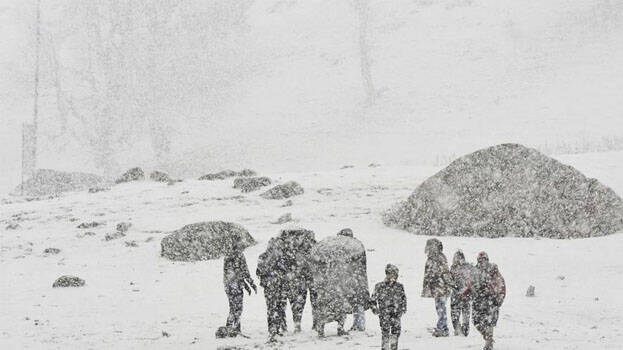 SRINAGAR: Higher reaches of Kashmir including Gulmarg and Sonamarg tourist resorts received first snowfall of the season on Wednesday while the plains were lashed by rain, bringing down the mercury by more than 10 degrees.
"Snowfall was witnessed in higher reaches of Kashmir valley including Gulmarg and Sonamarg in the wee hours today (Wednesday) while the city and other plains were lashed by rainfall," an official of the MET department said.
This was the first snowfall in the inhabited areas of the valley.
The change in weather normally brings cheers to the faces of the people associated with tourism but they have their fingers crossed in view of the prevailing situation in the valley in the wake of abrogation of Article 370.
"We do not know if the tourists will come to Kashmir this winter, although indications are that we will receive plenty of snow this season," Basharat Ahmad, a travel agent, said.+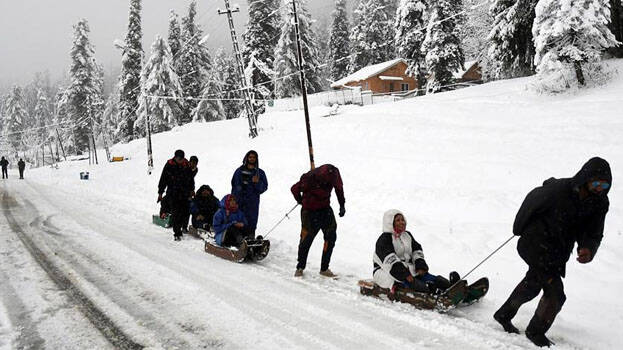 The downpour in the plains has significantly brought down the day temperature in the city.
While the maximum temperature recorded on Tuesday was 18.6 degrees Celsius, the city recorded just 5.6 degrees Celsius at 3.30 pm on Wednesday, the MET department official said.
The winter chill has set in early this year in Kashmir as the maximum temperature during the last couple of days has settled a couple of degrees below normal for this time of the season, he added.
Meanwhile, heavy snowfall across Kashmir on Thursday cut off the valley from the rest of the country as the arterial Jammu-Srinagar National Highway was closed for traffic while all flights to and fro Srinagar airport were cancelled, officials said here.
An official of the traffic department told PTI that roads which connect the summer capital with far-flung areas like Gurez, Macchil, Keran and Tangdhar have also been closed due to adverse weather conditions.
Over 2000 vehicles are stranded on the highway due to the closure.
An official of the Airport Authority of India said all incoming and outgoing flights at Srinagar Airport have been cancelled.
"A call on afternoon flights will be taken only after reassessing the weather situation," the official said.