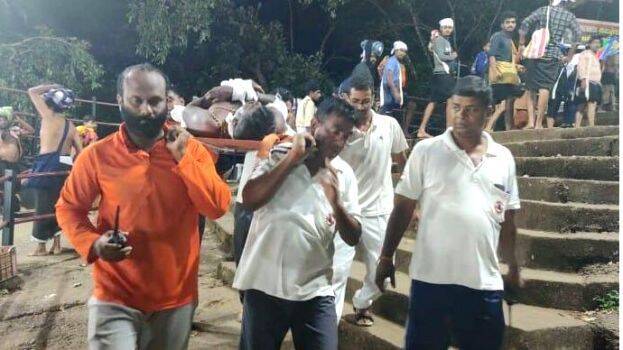 SABARIMALA: Thirteen Ayyappa devotees including a three and a half year old girl sustained injuries when a big tree fell on top of them while they were coming down after darshan. The condition of six is stated to be serious. Seven has been admitted at Kottayam Medical College Hospital. The incident happened early this morning at 12.30 am near Marakoottam.
Devotees from Andhra Pradesh and Tamil Nadu were injured besides Kerala. A big tree fell in the heavy rains and winds that lashed the area last night. Abhirami aged three and a half of Chittar, her father Anil Kumar (35), her grandmother Shanthamma (65), Preman (36) of Malappuram, Sreenivas (50) of Telangana, K M Sathish (34), Rameswar Rao (43), Ravi aged 30 and Guruprasad (35) natives of Gundoor in Andhra Pradesh, Reghupathi (40), Kumar (49), Rudramurthy (5) and Vadivel (49) of Tamil Nadu were those injured.
Anil, Shanthamma, Abhirami, Sreenivas, K M Sathish, Rameswar Rao and Ravi had been admitted at Kottayam Medical College Hospital. The condition of all except Abhirami is stated to be serious.
The police, fire force and RAF jointly brought the injured to the hospitals in Pampa and Nilamel in dolly and stretchers from Marakoottam. The big tree which fell was chopped off last night itself.