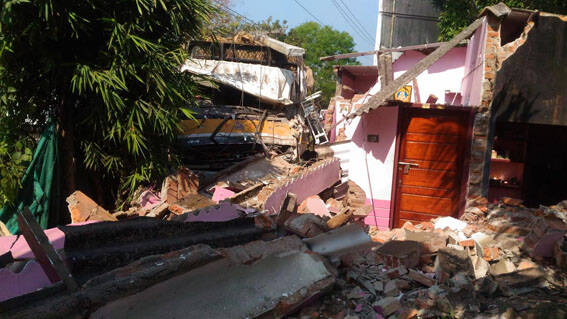 KUTTANAD: An out-of-control truck crashes into a house here, killing a woman. The deceased has been identified as Rajamma (68), wife of the late Pushkaran of Chirayil in Moncomb Thekkekara in Chambakkulam Panchayat. Her daughter-in-law Bindu (39), grandchildren Aishwarya (10) and Anaswara escaped the accident as the exited the house on hearing the noise.
It has been suspected that the driver had slept, which resulted in the accident.
The incident was in the early hours at around 2.30 am near KSFE office in Moncomb Thekkekara. The truck crashed into an electric post before eventually crashing into the house. The wall and plank collapsed onto Rajamma's head, who was asleep.
The highway police reached the spot and took the injured Rajamma from under the debris and rushed her to Alappuzha Medical College Hospital where she breathed her last. A wall on the side of the house was completely destroyed on impact. The truck driver and cleaner fled the spot but later sought treatment at Medical College Hospital.
The Malappuram registered truck is thought to have reached Kuttanad for loading paddy. Rajamma's children: Shaji, Biju, Ajikumar (late). In-laws: Bindu, Bindu. Funeral will held at 3 pm on Sunday.