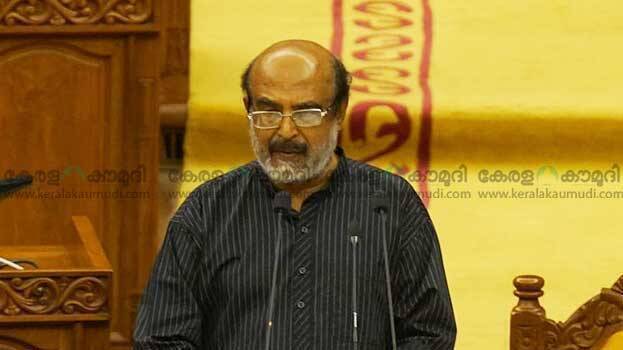 THIRUVANANTHAPURAM: Finance Minister Dr Thomas Isaac is presenting the state budget for the fiscal year 2020-21. He started presenting the budget criticizing the central government's policies. He pointed out that democracy and dictatorship are face to face in the country and the central government have administrators speaking only the language of hatred.
Isaac boasted that the LDF government in the last four years has spent double the money the previous UDF government in its five years spent on welfare pensions. All welfare pensions like old age, widow etc have been hiked by Rs 100. The beneficiaries will now get Rs 1,300 monthly.
Rs 20 crore additional fund for river conservation projects
Govt announces provision to provide food to bedridden people at their doorstep
Govt increases school uniform allowance from Rs 400 to Rs 600.
One crore fruit trees to be planted in the state
Rs 10 crore allocated for Travancore heritage project
600 crore earmarked for Kudumbashree, plan for protection of aged parents
As part of hunger-free Kerala project, government will provide lunch for Rs 25, 1000 eateries will be opened for this purpose
Govt will hold a special conference in Thrissur for the anniversary of People's Planning
12 crore for Loka Kerala Sabha
Got to install Oncology park in Alappuzha
Crash course to ensure jobs for 10,000 nurses abroad
50 crore to Medical Services Corporation in health sector
Govt to build one lakh houses and flats under Life Mission
Govt will provide Rs 1,500 crore for public works
6000 crores for development of Kochi, Eco-friendly transportation will be introduced in Kochi
Rs 40 crore earmarked in budget for paddy farmers
Steps on fast rail path in final stages
Interest free loans for startup projects
Govt to ban CFL filament bulbs from November
Govt to bring in ten bypasses in 43 kilometers and 74 bridges in 53 kilometers
Number of job entrepreneurs currently stands at 23453
Number of Kudumbasree members has increased to 47 lakhs
Fisheries production in the state touched 8.2 lakh tonnes
Projects worth Rs 20,000 crore will be implemented in KIIFB by 2020-21
Govt will provide two and a half lakh more drinking water connections
Govt will start power projects with a capacity of 500 MW
Govt spent Rs 9651 crore on health plan
Rs 1,000 crore allocated for building rural roads
Rs 90 crore for welfare of expatriates, Rs 1,000 crore for the state's coastal community.