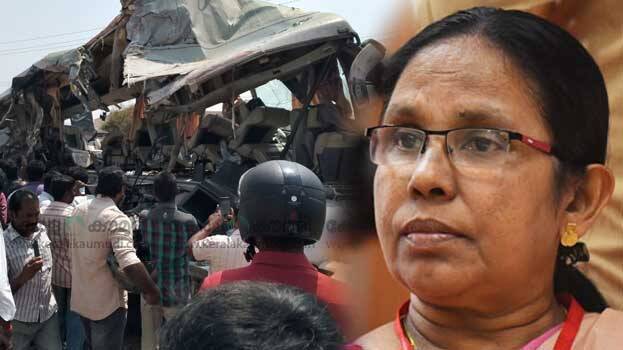 THIRUVANANTHAPURAM: State Health minister K K Shailaja has said that 20 ambulances have been sent to Tiruppur to bring back bodies of persons who died in the accident caused by a container lorry that rammed a KSRTC Volvo bus. The bus was heading towards Ernakulam from Bangalore.

"Injured persons will also be brought back. The government wishes to bring them to Kerala and give them treatment," she said. Meanwhile, minister A K Saseendran and V S Sunil Kumar have reached Tiruppur. 20 persons have been killed and 25 persons have been seriously injured.
According to reports, 19 persons who died were Malayais. Out of them, five were women. There were 48 passengers in the bus and 42 among them were Malayalis.

KSRTC bus driver cum conductors T D Gireesh and Baiju died on the spot. Eleven of the dead have been identified. The accident happened at 3.15 in the morning on Thursday.