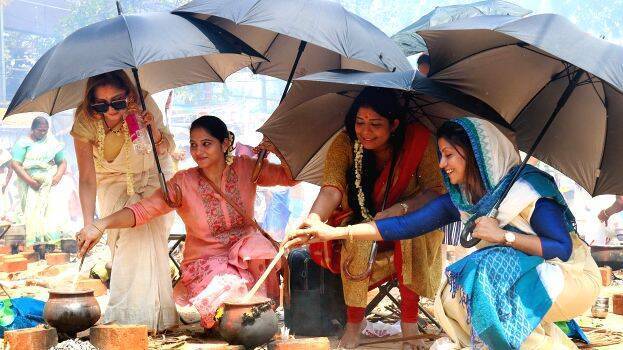 THIRUVANANTHAPURAM: Wives of top army officers residing in Thirumala Pangode Army camp also were part of Attukal Pongala festival this time and it was their first Pongala experience.
They offered Ponagala along with the wives of army jawans on the military ground.
Among them were, Pangode Deputy Commander Colonel M S Kumar's wife and Malayali Twinkle Swati Kumar, Camp Commander Lt Colonel Viswanath's wife and Malayali Rajitha Viswanath, Lt Colonel Aravind Tom's wife Babitha Tomar and Army Recruitment Director Colonel Sandeep Sharma's wife Adiba Sharma.

Navy Rear Admiral Sreekumar Nair's wife Meena also performed Pongala with them.

Despite being a Kasargod native, Twinkle Swati performed Pongala for the first time on Monday. "I went out of Kerala when I was just four years. Even though I visited Kerala several times over later years, I was not able to take part in the Pongala. Now the joy I feel after offering the Pongala is beyond description," she said.
Adiba Sharma said that she had heard about the Pongal festival in Tamil Nadu but she knew nothing about Attukal Pongala. "It has been only six months since I came to Thiruvananthapuram. I reached hear to make the offering out of curiosity. I came to know that for Keralites, this is the widely celebrated festivity after Onam. The next time also I shall try to be part of the Pongala festival," she said.

All four women said they offered Pongala, praying for the wellbeing of everyone.