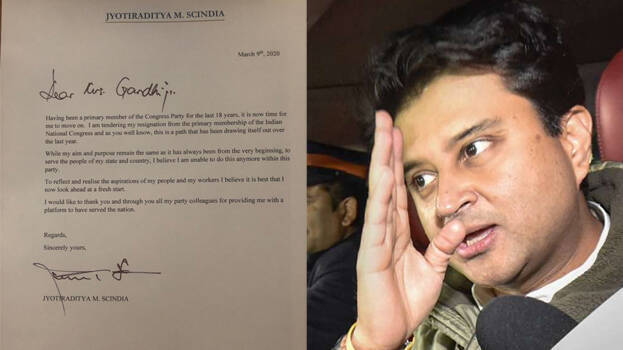 NEW DELHI: Moments after meeting Prime Minister Narendra Modi in the national capital on Tuesday, disgruntled Congress leader and former Guna MP Jyotiraditya Scindia tendered his resignation to party president Sonia Gandhi saying it was now time for him to move on.
Gandhi immediately expelled him from the Congress for anti-party activities, as the crisis looming over the Congress government in Madhya Pradesh deepened.
"The Congress president has approved the expulsion of Jyotiraditya Scindia from the Indian National Congress with immediate effect for anti-party activities," according to a statement from AICC general secretary K C Venugopal.
Noting that the events of the day had been drawing themselves out for a year, Scindia wrote to Gandhi saying that it was now best for him to look at a fresh start.
"Having been a primary member of the Congress party for the last 18 years. It is now time for me to move on. I am rendering my resignation from primary membership of the Congress and as you well know this is a path that has been drawing itself out over the last year," Scindia wrote in his letter.
The fourteen MLAs who are loyal to Scindia have sent their resignations to state Governor on Tuesday, Raj Bhawan sources said. "We have received resignations of 14 MLAs through two e-mails with attachments," a Raj Bhawan official said.
Earlier in the day, he met Prime Minister Narendra Modi and Union Home Minister Amit Shah amid indications that he might join hands with the BJP to topple the Madhya Pradesh government.
In Delhi, sources said hectic efforts were underway by the Congress leadership to save the party's government in Madhya Pradesh, and placate Scindia who has long been at daggers drawn with Kamal Nath over leadership issues.
The party high command is sending emissaries, including Rajasthan Deputy Chief Minister Sachin Pilot, to Scindia in order to win him back. But the efforts have not borne any fruit yet, they said.
On Tuesday, Pilot tweeted, "I am hopeful that the current crisis in Madhya Pradesh ends soon and that leaders are able to resolve differences. The state needs a stable government in order to fulfil the promises make to the electorate."
Congress veteran and former Madhya Pradesh chief minister Digvijay Singh said Scindia could not be contacted.
"We have not been able to talk to him yet... Anyone who is a true Congressman will not leave the party," he said, adding the people of the state would give a befitting reply to anyone who attempts to undermine their mandate.