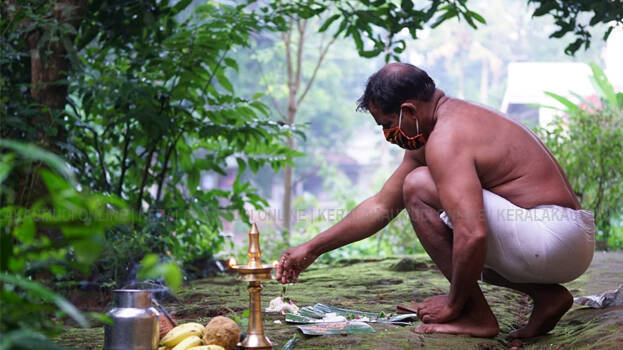 THIRUVANANTHAPURAM: Thousands offered bali tharpanam ritual, paying homage to their ancestors on the auspicious Karkkidaka vavu day at their homes. This year it was offered at homes due to government's directive in the wake of rising COVID cases. Usually bali is offered along the banks of rivers, temple ghats and beaches across Kerala.

People with no courtyard offered bali in their terraces. People staying in flats offered it there. Timing was from 1.30 am till 4.55 pm, but the auspicious time was from 3.30 am to 12 noon. Many offered the bali in the morning itself.
In the backdrop of the transmission of the virus, the main river banks of Tirunelli in Wayanad, Thirunavaya, Aluva beach, Thirumullavaram in Kollam, Parasuramaswamy temple in Thiruvallam, Shanghumugham, Varkala beach and Aruvippuram Mutt wore a deserted look.
There was a ban in offering bali at public places also. The authorities had requested to avoid offering bali at public places and river banks.