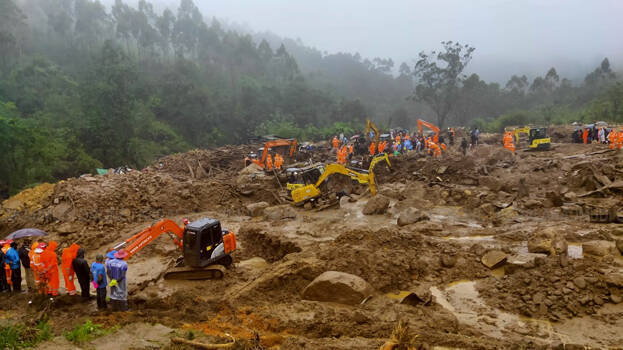 IDUKKI: The search has continued on the fifth day for the missing people in the massive landslide that struck Pettimudi in Rajamala. 21 more bodies have to be recovered. Mostly of them are children. As they have flowed to the river near their houses, the search in the river will continue today also. The district administration has informed that 12 bodies were recovered yesterday from the river alone.
Six bodies including that of three children were recovered yesterday. With this, the toll has risen to 49. The search is on with utmost care as COVID-19 is in fear. Large boulders are disrupting the search. The rescue operations will be speeded up by a small explosion. A search using drone is in progress in the river.
Majority of the plantation workers in Munnar are from Tamil Nadu. So relatives from various parts of Tamil Nadu are flowing to the place to have a last glimpse of them. According to police, at least thousand people have come from Tamil Nadu. People from Tamil Nadu are permitted to leave check posts only after their body temperature is checked. More than 100 policemen, fire fighters, more than 50 revenue officials and the National Disaster Response Force are currently in Pettimudi. They will be subjected for antigen tests. Tests were conducted on ten people yesterday. No one tested positive.
A member of the fire force team from Alappuzha who reached Pettimudi for search was confirmed of the virus the other day. So the entire team have been placed into quarantine.